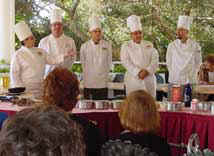 Our December event at the Biltmore was attended by 20 members and 10 new members. Most of the group took the guided tour through the beautiful hotel. Prior to the tour we were greeted by Executive Chef Kim Miller. She introduced her Terrace Chef, Richard who quite interestingly explained the making of his great Jamaican crab cakes that he prepared and served topped with orange butter cream and mango fruit salsa. We were also served their famous Biltmore house salad, consisting of lola rosa, taksoy and mitzuna tossed with fresh field greens, bleu cheese, mandarin oranges and balsamic vinaigrette. If you would like a copy of the packet of recipes, please email or call me. Chef Richard was assisted by Chef Kevin in their beautiful outdoor Terrace Room overlooking the grounds.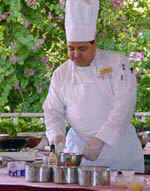 The Belleview Biltmore Resort & Spa opened on January 15, 1897. Almost overnight, the hotel became a favorite winter retreat for steel magnates, presidents, tycoons and industrial barons. The hotel was built by an army of workmen, moving mule-powered scrapers, wagons and carts to prepare the land for the masons charged with building the 145-room hotel. In October 1942 the hotel and its nearby property were leased to the U.S. Army Air Corps and used as an auxiliary barracks. Over 3,000 military personnel were housed at one time in the hotel. We felt quite honored to tour the hotel which is listed with the National Registry of Historic Places.
Chef Kim invited us to return in the summer for a demonstration by her Banquet Chefs, Robert and Chris. Don't miss the next one!
Belleview Biltmore Resort and Spa
25 Belleview Blvd, Belleair
727-442-6171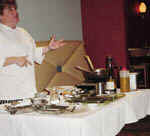 In November 2001 we visited we visited SideBerns of Tampa for a demonstration by Executive Chef/Partner Jeannie Pierola. Jeannie was featured in the December 2001 issues of both Bon Appetite and Gourmet magazine.
After touring the state-of-the-art kitchen, we made our own Spring Rolls to dip in Jeannie's three delicious sauces, then watched as Jeannie whipped up a delectable Stone Crab Risotto. To finish off the afternoon, we sampled Berns' famous, secret-recipe macadamia nut ice cream.
SideBern's
2208 W. Morrison Ave, Tampa
813-253-0358

We were pleasantly surprised by Chef Karl Klumpp of The Wine Cellar Restaurant in Redington Beach who served not just one, but numerous, samplings of his "Continental American" cuisine. Most of us, arriving very hungry, were delighted to find Roasted Eggplant Caviar with Crisp Toasts and also Chef's signature bread with delicious olive oil dip, already on our tables. As an appetizer, Chef prepared his Soused and Peppered Shrimp, sauted in dry vermouth, olive oil, garlic and "lots of black pepper," finished with fresh lemon juice! Jerry, his assistant, then prepared a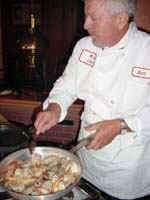 Caesar Salad, explaining the preparation to us. Our next sampling was three (yes three!) chicken specialties, Chicken Marsala, Chicken Parisian, and Chicken Piccata, all light and deliciously prepared . Our next tasting was Wiener Schnitzel and to finish off this fabulous sampling Chef prepared "Beef Wellington" for us, a tenderloin of Black Angus Beef seared to perfection, slathered with a mushroom duxelle, then wrapped in the most flaky puff pastry and baked until a lacquered, golden brown. Elegant, from beginning to end!
Chef Karl Klumpp, one of the original founders is co-executive chef, along with Doug Miller, in addition to chefs, Kai Sonnenschein, Gabriela Nichols, and Tina Brignall. Many of The Wine Cellar's chefs are internationally trained.
The Wine Cellar has won the Florida Trend coveted Golden Spoon Award several times and the Silver Plate Award from the International Culinary Society, to name a few. Their decor reflects a romantic European feel. Please visit them again for intimate parties or larger parties. They can accommodate 200, and off premise they can serve up to 2000.
The Wine Cellar
727-393-3491

What an exciting trip! On September 15th we packed our bags and traveled to the colorful island of Jamaica. We were instructed, entertained and served by executive chef and owner of Saffron's restaurant on Park St. in the Jungle Prada. It rests on one of the most historically significant sites in North America. The Jungle Prada was built in 1924. The hotel and Jungle Prada catered to such celebrated personalities as Al Capone, Babe Ruth and Al Lang. Much of the original Spanish Caribbean architecture is still evident today: twisted columns, keyhole portals, open beam ceiling, copper clad Moorish turrets, barrel tile roof and much more.
Please visit Edyth, our gracious hostess. She actually served an entire meal to our club, consisting of marinated Jerk Chicken with Sauce, her signature dish, Rice and Peas, (beans in America) and very tasty Collard Greens. Edyth conducts cooking classes of up to 50 students at one time. She was quite informative regarding the culture of Jamaica, explaining that each island traditionally prepares dishes using only the fruit, vegetables, etc. found on each specific island. They prepare mostly salted beef, pork and fish. Their food is influenced by Europe, Asia, China and India. We were delighted to taste her ample serving of "Jonny Cakes", historically baked by Jamaican workers who placed the dough on hoes in ashes after their days work, then awakened to fresh baked bread for the day. She also shared with us her original recipe for Ginger Tea Saffron's - delicious. It relates to our "Granny's Cure" in America, as ginger is known for its relief for indigestion and motion sickness.
Saffron's
1700 Park St. North, St. Pete
727-345-6400


August 18th we traveled to France to taste the great wines of Bordeaux, Burgundy, Alsace and the Loire Valley. Jim Sirna, president of Morrells Wine Shop invited us to a sit-down wine tasting with six wines to sample from France. We were delighted to find the wines were accompanied by delicious French cheeses, pates and fresh fruit.
Jim's presentation was quite informative in addition to being quite animated. He explained that each wine producing area is unique and has its own terroir. In fact, the French do not name their wines after the grape country from which it is made, but rather the town, village or region from where the grapes are grown. Regions of France where wine is produced are relatively small. Yet they put forth a variety of excellent wines. Complex laws and restrictions keep the wines true to the terroir.
Morrells is located in historic Ybor City, in a 100-year-old building. Jim has created not just a wine store, but also a wine facility. He offers client wine storage, retail sales and also has a beautiful event room he uses for public and private tastings. Early in 2002 he will begin construction on the Morrell Bistro, which will feature over 100 wines by the glass, and gourmet cheeses, pates and caviar. He also offers classes at the Tampa Wine Institute at his facility. Jim may be contacted at (813) 241-8587 to learn how to get an extra 10% off class admission. For more information please visit his web site at: winesbymorrelflorida.com.
Wines by Morrell
2009 N. 22nd St., Ybor City
813-241-8587

The March event at the Ybor City Brewing Company was a great success. This Ybor City pillar has withstood the test of time. The building itself was a testament to it's rich history. The original building, built in 1894, known as Seidenberg and Co. was a hand-rolling cigar factory. Now the building stands as the first statewide micro-brewery in Florida. Tina, our guide, did an outstanding job with our tour and education of the of beer production process.

The Ybor City Brewing Company, under Venezuelan ownership, currently produces one million barrels per year. A part of their success comes from the fact that Florida is the third largest beer consuming state in the country. They typically produce 700 cases of beer a day. Tina states the process of making beer is simply combining barley, hops, yeast and filtered water. Yet it is the proportions of each ingredient that allow for a different flavor of beer to be created.

After the tour, we were led into the Hospitality Room, where Tina provided several different samples for each of us to try. From ales to lagers, we sampled their Calusa Wheat, Ybor Gold, Ybor Brown Ale, Gaspar's Ale and finally Hurricane Reef, a raspberry-flavored beer. Not only was the tour wonderful, but the beers were incredible. The Tampa Bay Culinary Club would like to say Thank You Ybor City Brewing Company for an excellent event!
Ybor City Brewing Company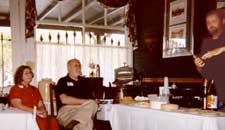 Last month's event at Sutherland Cafe was exceptional! Chef Eric Weber did an outstanding job with the items he featured in his demonstration. Not only was the demonstration great; but you could feel Chef Eric's true passion for cooking as he educated and entertained us. From appetizer to dessert, everyone genuinely enjoyed themselves. Recently hailed as Best of the Bay "Best Chef," Chef Eric's culinary talents have also won the restaurant the vote for "Best Floribbean" in the recent past.
The Sutherland Cafe has a rich history with original portions of the building dating back to 1888. Through the next century, with additions and renovations, it has operated as a restaurant with boarding rooms upstairs, a post office, a bank, a grocery store and currently as the famous Palm Harbor eatery with the unique antique shop upstairs.
We first started with a Spinach Apricot Salad with Chicken. Balsamic vinegar was gently heated over a low flame while the olive oil was whisked in. Chef Eric then added sun-dried apricots, salt and finally fresh spinach. After all ingredients were incorporated, cooked chicken was then quickly tossed in. What a simple and delicious salad!

We then sampled a wonderful Orange Chili Shrimp. Shrimp heated with Mandarin oranges and a Thai Sweet Chili Sauce. This appetizer demonstrated the wonderful combination of sweet and spicy. And if you wanted sweet, the finale was Papaya Crepes. Chef Eric warned all to avoid watching as he melted A "little" butter with brown sugar and papayas for his papaya sauce; which was then drizzled over prepared crepes. WOW, what a decadent dessert - but no one was complaining. Thank you Sutherland Cafe and Chef Eric for an incredible demonstration!

Sutherland Cafe
1026 Florida Ave., Palm Harbor
727-787-7734

What a way to start off the New Year for the Tampa Bay Culinary Club! Il Gabbiano did a great job in hosting our January event. This very interesting Italian restaurant offers a wonderful culinary twist on Tuesday evenings when they host "Moroccan Night." Voted Best of the Bay "Best Mouthful of Morocco". this restaurant's allure is quite captivating.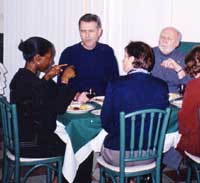 Owner and Chef Ali started us off with a wonderful Moroccan soup called Harira. This was made with Chick Peas (or otherwise known as Garbanzo beans), lentils, tomatoes, beef and of course authentic Moroccan spices. From here, we knew our taste buds were in for a treat.

Served as the main entree, Grouper Tagine was Ali's next hidden treasure. As is the tradition with Moroccan cooking, the tagine method is a type of stewing for meats or poultry. This type of cooking allowed the fish to remain moist and delicate while being caressed by the aromatic Moroccan spices, Kalamata olives and red peppers. The grouper was then coupled with couscous, a semolina served as a native food of Morocco.

If you've ever wanted to enjoy an authentic taste of Morocco, then you must visit Il Gabbiano on Tuesday evenings. Ali and his staff will make you feel right at home; that is, their home of Morocco. Thanks again Ali for an incredible start to our culinary New Year!!
Il Gabbiano
3671 S Westshore Blvd., Tampa
813-931-0694