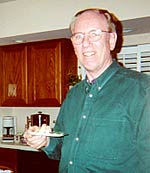 Our Winter Holiday Party was a great success! I would like to take this time to thank David and Calista Koval for opening up their beautiful home to us for our Annual Holiday Party.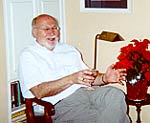 Everyone showed their great culinary skills and we all sampled quite a diverse and tasty assortment of treats. From appetizers to desserts, our taste buds were dazzled and delighted. While their seemed to be an endless supply of food, those in attendance did their best to sample everything. We even had the opportunity to go home with a goodie-bag.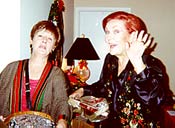 Not only was the food sampling wonderful but the cookie exchange was a great success also. Everyone brought approximately four to five dozen cookies to share. With all that was there, we were able to bring home an assortment of several dozen cookies - Yum!

Thanks to all for being great friends. I appreciate your friendship and devotion to the club!

We certainly chose the appropriate restaurant as the finale to our 2000 World Cuisine Tour. La Maison Basque lived up to our expectations in providing authentic Spanish cuisine. Their culinary talents coupled with their hospitality provided for a wonderful event. We were introduced to their renowned Paella, brimming with an abundance of tastes and textures.
The Paella consisted of countless ingredients, each delicately contributing to the overall flavor of the dish. While the Chef demonstrated its construction, the real marvel awaited us in the kitchen. Everyone was in disbelief when the final dish arrived. We were greeted with an enormous platter, traditionally used in serving Paella. What a wonderful presentation for the eye, not to mention the incredible taste for the tongue.
As in true Spanish style, La Maison Basque was wonderfully generous with us. We were treated to an exquisite culinary masterpiece, and even had an opportunity to indulge our tastebuds twice. You certainly owe it to yourself to visit La Maison Basque and indulge in fine authentic Spanish cuisine. Thank you La Maison Basque for a wonderful demonstration!
La Maison Basque
3621 W. Waters Ave, Tampa
813-932-1922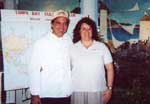 Our October travels took us to Hella's Greek Restaurant, well-known for their authentic Greek cuisine and listed as Best of the Bay's "Best Greek Restaurant." A gracious and hospitable restaurant that incorporates family into many of its recipes is the key to its popularity. Living up to our expectations, we were treated to an exceptional demonstration led by Chef Emanuel.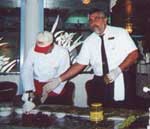 We were delighted to learn the art of preparing Dolmades, or Greek Stuffed Grape Leaves. Chef Emanuel explained that the "traditional" dolmades are made with meat, although a vegetarian style could also be made using rice and herbs. Our demonstration of dolmades included ground beef, rice and many herbs which incorporated both taste and texture. The completion of the dish was made by drizzling a tart lemon sauce, which used the "juice" from the cooked grape leaves.

Everyone was taken with Chef Emanuel and his staff. Their genuine love of cooking and family tradition was obvious throughout the demonstration. You owe it to yourself to visit Hella's Greek Restaurant for a taste of authentic Greek cuisine and culture. And if you're a lover of the sweeter things in life you must visit their bakery adjacent to the restaurant. Thanks, Hella's, for an outstanding event.
Hella's Restaurant
785 Dodecanese Blvd, Tarpon Spring
727-943-2400

Mangia!! at Buca di Beppo
Our World Cuisine Tour has treated us like royalty. Our tour de Italia was magnifico! Buca di Beppo was everything (and more) we hoped for in an Italian restaurant. The minute you stepped inside, you were treated like one of the family.



Chef Tom did an outstanding job with the demonstration of the Chicken Picata, or Lemon Chicken. We were not only taught the delicate balance of the ingredients, but the secrets in maintaining the sauce's integrity. Chef Tom showed us the difference between a well-incorporated lemon sauce and one that is "broken."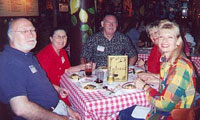 The art of searing the chicken on both sides after a light dusting of flour, is the trick to ensuring it's moistness. The chicken was enveloped in the light creamy lemon sauce and then dotted with capers to finish the dish. But this wasn't the finish yet, for Chef Tom then generously pass around their infamous half-pound meatballs to all of us. What a surprise!

Please visit Buca di Beppo to experience the food and fun. Thanks, Buca, for an excellent time!
Buca di Beppo
11511 N. Dale Mabry, Tampa
813-962-6673

TBCC Goes Hawaiian at Redwood's
The August event at Redwood's Restaurant was by far one of the best events we have had. Not only was the restaurant very accommodating to our largest attendance yet; but they thought of even the smallest amenities. Chef Joseph and Chef Shawn did an outstanding presentation. The unbelievable narration by Chef Joseph obviously displayed his vast knowledge of the culinary arts. It is no wonder that Redwood's was named "Tour of the Tongue" as Best of the Bay in Pacific Rim.
After speaking with Eddie, the restaurant manager, it wasn't hard to understand why Redwood's is one of the most sought after restaurants in Pinellas County. Joseph Chouinard, who is probably one of the top 15-20 chefs in the nation, has an incredible culinary history. His experience includes working at Le Cirque and Windows on the World in New York City, and Nicoli's Rooftop in Atlanta. Chef Joseph also spent two years mastering his art in Maui. It is rumored that when Wolfgang Puc travels to Florida, he makes a special trip to St. Petersburg to visit Chef Joseph and to enjoy his magnificent culinary treasures.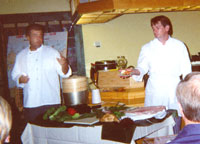 The featured item, the Lau Lau was a vision for the eye as well as a flavor for the mouth. The assembly was prepared within a shrine of Ti or banana leaves, causing anticipation, like a child opening a Christmas gift. The delicate combination of the snapper, sea scallop and shrimp all swimming gently in the Kaffir Lime Butter Sauce allowed your mouth to truly appreciate the gifts from the ocean. The baby clams were a textured addition to adorn the plate as well as the palate.
I urge you to visit Redwood's. The featured menu items are constantly changing, as Chef Joseph receives fresh flown-in deliveries twice weekly of native Hawaiian fish and produce; Apakapaka, Purple Potatoes or Maui Onions to name a few. Thank You Redwood=s for an exceptional demonstration!!
Redwood's Restaurant
247 Central Ave. St. Petersburg
727-896-5118

TBCC Experiences the Big Easy at Cafe Creole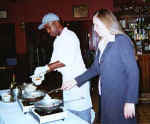 Our second stop on the World Cuisine Tour, Cafe Creole in Ybor City was a great success. Both restaurant manager Dorian and Executive Chef Chip did an outstanding job of hosting this month's meeting.
Voted Best of the Bay, Best Cajun, Cafe Creole is located in the historic landmark El Pasaje. This gentleman's club and casino, built in 1896, now stands as a symbol of true Cajun authenticity.
As expected, Cafe! Creole did what they do best. We were treated to one of their signature dishes, Barbeque Shrimp Orleans. Dorian and Chef Chip were careful not to let all of their secret ingredients be known; yet we were let in on a few. What a wonderful combination of flavors in the Herb Butter. As many will recall, Chef Chip certainly used a generous portion in his Shrimp dish. The Wild Rice Pilaf with mushrooms was a wonderful accompaniment to the shrimp. We also found out, that it too, was flavored with the Herb Butter.
If you are having a special event or party, Cafe Creole will arrange will come to your home, complete with all the fixin's for your get-together. You can also enjoy their own line of award-winning spices that can be purchased at the restaurant.
If you happened to miss this great event, I must tell you to go and visit Cafe! Creole. Not only will the food beckon you, but they also have live music and happy hour to help you relax and enjoy. Our thanks goes out to Cafe! Creole and their wonderful staff for an excellent event.
Cafe Creole
1330 East 9th Ave, Ybor City
813-247-6283

World Cuisine Tour Kick-Off at Thai Basil
The first stop on our World Cuisine Tour was Thailand. Hailed as a Best of the Bay by the Weekly Planet, Thai Basil restaurant offers robust flavors well-known to traditional Thai cuisine.
The owner Lay and his wife run the kitchen as well as the operational responsibilities of the restaurant. Lay was born in Laos, after his parents moved from Thailand. He then settled in the Philippines in 1981 and subsequently moved to the United States. He, along with his wife, has owned and operated Thai Basil for approximately two years.

June's event at Thai Basil has to be about the best we've ever had! Lay, Lilly, Ken and the staff from Thai Basil were the most gracious and generous people we've ever had the pleasure to meet. We were greeted with such warmth, and the hospitality was abundant and genuine.
As anticipated, we were invited, in groups of 8-10 members, into the kitchen to observe Lay perform his magic. First on the menu were the Basil Rolls - pork, shrimp and various greens nestled and wrapped into cellophane-like rice papers. The Nam Sod Chicken with chili lime juice was just spicy enough to have you looking for more. Pud Thai was the next item we watched Lay prepare for us. This was a wonderful fried rice noodle dish, combined with shrimp, chicken and ground peanuts. The final sampling was my favorite, the Salmon Curry. What a wonderful combination of spicy green curry and the sweetness of coconut milk. The salmon literally melted in your mouth. We also had a unique Thai Iced Tea, which served as a dessert because of the key ingredient - half-and-half.
I am serious when I say you must treat yourself to Thai Basil. Lay and Lilly are reason enough to want to visit; but the food is, without question, exceptional! Thank You, Thai Basil for a great event.
Thai Basil
4445 East Bay Drive, Clearwater
727-532-6108

A Tasting of Shakes, Malts and Freezes
Boy oh boy! If you think at times you could indulge in one of your favorite food items and never reach your limit, then you must have missed the May event. This time we were professional taste-tasters with shakes, malts and freezes. The TBCC was invited back to Bob and Janet's for another fun and interactive demonstration.
Bob and Janet, who will be opening their new store, Key West Confections and Cones, needed some input regarding possible menu selections for their frozen concoctions. The Tampa Bay Culinary Club was quick to jump to the job at hand. We sampled various shakes, malts and freezes made with different ingredients, which directly altered the taste, consistency, texture, smoothness, etc. We were to then give our opinions regarding our preferences and record them on our "answer sheet." (And we didn't even need a #2 pencil!)
After the great taste-tasting, we then enjoyed a nice little get-together. The hors d'oeuvres we shared were excellent as well as the company and conversation.

All About Chocolate
A special friend once said "There's nothing better than a good friend, except a good friend with chocolate!"
As many members had requested a program featuring chocolate, how pleased we were to find the chocolate expert right within our club. Bob and Janet Moyer, who opened their beautiful home to us for our January meeting, once again hosted the TBCC for a demonstration in how to handle chocolate.
Bob and Janet will be opening two stores named Key West Confections and Cones later this year at BayWalk in St. Petersburg, and Garrison Terminal in Tampa. In preparation for their new venture, Bob has made it his business to become a knowledgeable chocolatier.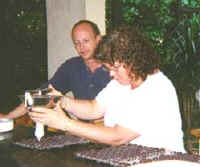 If you love chocolate and weren't able to attend this meeting, did you miss out on a creamy, confection frenzy! Believe it or not, those that call themselves chocolate addicts were begging not to sample anymore of these sweet delights. We were introduced to a variety of different chocolates, including some sugar-free samples which tasted incredible, without that notorious sugar-free after-taste. Several versions of dark/bitter-sweet and the rather classic milk chocolate were available for all to sample.
Not only were our palates entertained, but we learned some of the history of chocolate and its various applications in the confectioner's world. We learned about the tempering, melting and molding of chocolate. We participated in a hands-on demonstration in making our own buttercreams. We also made our own truffles, from the ganache-like center to the final dipping which created the outer shell/covering.
I would like to thank Bob and Janet, again for their hospitality and fabulous presentation!

Home Gourmet Hosts House Party for TBCC
The Home Gourmet of Dunedin introduced its new concept, a house party, for the Tampa Bay Culinary Club in March.
John Lewis, who was a divorce mediator by profession, turned his love and passion for food and cooking into a reality and named it The Home Gourmet. I'm confident that all of you have discovered this unique gourmet cookware store/cooking school . If not, you're in for a rare treat. This high-end kitchen boutique combined with a full kitchen and cooking school is one of a kind in the Tampa Bay area.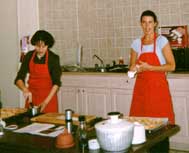 The Home Gourmet did an outstanding job in educating and entertaining us! Both store manager Cindy Anderzak and her associate Debbie McGriffin were obviously well versed in the art of culinary trends and their application. They introduced us to the latest and most innovative culinary cookware, bakeware, gadgets, and specialty food items.
Debbie, who debuted with us, did an excellent job in demonstrating the true hands-on application of cooking. We received a packet of recipes (some donated by Cindy's own family), which also had the "recipe" of kitchen items needed to prepare any of the particular dishes featured. From appetizers to dessert, we were taught the various techniques of preparing foods with ease. Debbie and Cindy explained that it's all in using the appropriate cookware to save time and energy in the kitchen. From the Instant Marinader to the hands-free Garlic Mincer, it's like having your own assistant in the kitchen. This was a once-in-a-lifetime opportunity to see what the professional chefs are using in the kitchen and be able to obtain the same high-quality culinary items for home use.
If you are interested in a calendar of classes at the Home Gourmet cooking school, led by Chef Dawn Algieri from New York City, call 727-736-6400 or even better, visit the store located at You will be fascinated by all the latest culinary items available to the home chef, without sacrificing quality or value.
The Home Gourmet
471 Main Street, Dunedin
727-736-6400.

Great American Natural Products
When Louise Hamilton, owner of Great American Natural Products says, "It is difficult to describe my store," she's right! Our visit in February to this herbal apothecary and scent shop certainly confirms that statement. For those of you who may have missed Louise's presentation and tour, it was the most informative and delightful trip we've experienced so far.
During the beginning of the program at the Brandywine clubhouse, Louise shared her knowledge of natural, healthy living such as blending teas; making potpourri, bath salts, cream perfumes; and incorporating herbs and spices into cooking as well as aroma therapy. Each attending member sampled exotic spices, hand-dipped chocolates, dried fruits and rose petal cupcakes. Then, we caravanned to Louise's shop to find pretty tables waiting outside with different wines, herbal teas, and an assortment of dips and finger-foods.
As we entered the store, we were immediately relaxed by soothing music and many aromas that excited the senses. Louise's helpful and knowledgeable staff circulated with trays of desserts, and assisted club members in creating our own scented bath salts and potpourri. Louise's generosity was overwhelming as she brown-bagged samples of a multitude of goodies for everyone to bring home. You owe it to yourself to experience this fun and unique store.
Also, look for Louises' weekly TV segment, "Treat Your Senses" which is part of the show, A Little R&R - The Bed and Breakfast Show. It airs on Time Warner Cable in Pinellas County on Channel 7 at 11:30 am every Sunday, and in Hillsborough County on Channel 61 every Sunday at 9:30am and 10:00 pm.
Great American Natural Products
4121 16th Street North, St. Petersburg
727-521-4371

Tampa Bay Culinary Club First Ever Theme Party: An Evening in Italy
It's not hard to believe that every month just keeps getting better. A huge thank you and a round of applause to Janet and Bob Moyer for graciously opening up their wonderful home to us for our January meeting. Their genuine hospitality was warmly felt by all, not to mention the warmth from the roaring fire in the fireplace. They provided some tasty treats as well as some fabulous ambiance. Outside of not sailing on a boat, we might have actually traveled to Italy!
For those of you who missed this great event, there were no assigned recipes, allowing members to choose an appetizer, entrée or dessert to showcase for the party. The delicious dishes all of our members contributed to our first-ever theme party was such a success. Thank you one and all for your hard work and the wonderful assortment of delicacies. From antipasto to ziti, there was a cornucopia of tastes that delighted all.